Commercial Network Wiring
It's essential to find an experienced contractor when planning to install network wiring. Network systems provide an important service in many businesses, and Engleton Electric Co, LLC has worked together with clients all around the community on network installation, expansions, and connections. We are ready to use our 8 years of experience helping you.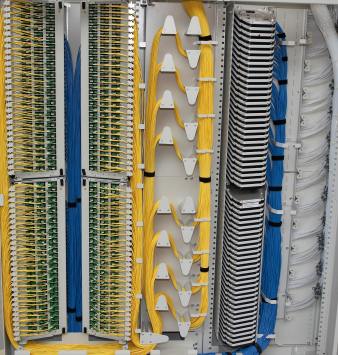 ---
Call for a Quote!
---
Three Reasons to Call Engleton Electric Co, LLC for Network Wiring Projects
Detailed and Careful Installers – Your communications system must be well designed and carefully installed to remain reliable and fast. The qualified installers at Engleton Electric Co, LLC are trained to handle all types of network wiring projects. Equipped with the latest industry knowledge and cutting-edge tools, the professionals at Engleton Electric Co, LLC are ready to work on your network, offering design, installation, and support services.
Prompt and Reliable Scheduling – Network problems can bring down an entire office. Engleton Electric Co, LLC provides professional service fast, with expert technicians ready to tackle repairs or expansions right away. Expect Engleton Electric Co, LLC technicians to be prompt and reliable, providing the expertise needed to get your network up and running.
Affordable Rates – Network wiring is often the backbone of an office communications system. Investing in the services of a professional to design and install this system is a wise move. And Engleton Electric Co, LLC offers a complete network wiring service for a reasonable cost.
Engleton Electric Co, LLC's Network Wiring Services
In the business since 2015, Engleton Electric Co, LLC installers have plenty of experience in network wiring and communications jobs, including:
Data Cable Installation and Connections
Data Outlets and Jacks Installation
Telephone Jack Installation
Testing of Data and Telephone Systems
Television and Sound System Wiring
Trust the experienced installers, reliable scheduling, and affordable rates of Engleton Electric Co, LLC. Handling network wiring projects of any size, Engleton Electric Co, LLC is qualified to install the latest data, telephone, television, and sound system wiring. Call Engleton Electric Co, LLC at (346) 209-2866 for more information and to arrange for a quotation.
---
Call For a Quote *$40 for visit, will be applied to invoice if hired
---